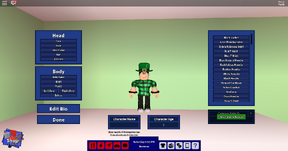 You can customize your character by clicking on the Shirt icon in the dock in the bottom of your screen. Once clicking you will get several tabs to customize your hat, shirt, pants, etc. and once clicking "Done", all the changes has been applied. You can purchase new clothing from the clothing store or Bailley's Emporium.
There is a bug where you can not edit your face and hair. To fix this glitch, all you have to do is get rid of the chat, which you can do by clicking the speech bubble next to the options menu on the top left. Once you get rid of the chat, you can choose your face and hair and then when you are finished just put the chat back.
Ad blocker interference detected!
Wikia is a free-to-use site that makes money from advertising. We have a modified experience for viewers using ad blockers

Wikia is not accessible if you've made further modifications. Remove the custom ad blocker rule(s) and the page will load as expected.