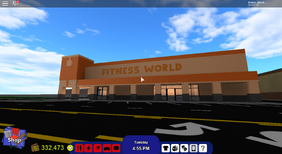 The Fitness World is an orange and tan building behind the high school and in front of the hospital. There is currently no use for this building, as you cannot do anything inside of it.
Exterior Edit
The name on the front is "Fitness World". There are three doors: One in the front, one to the right, and one to the left.
Interior Edit
When you walk through the front door, you see a desk. To the left of the desk, you have a yoga room, with many yoga mats, and yoga mats rolled up. To the right of the desk, you have a treadmill room. The room across from the front desk is filled with many weights, weight lifting machines, and yoga mats rolled up.

A year or so ago, Firebrand1 hinted at a possible exercise and fitness system but the update was never released and later scrapped. Currently only serves roleplaying purposes.