The Antine Villa (also known as Mega Mansion) is a house that you can live in. It is the most expensive house in the game. This is its features: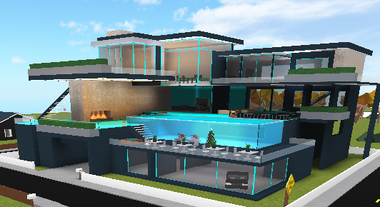 4 Bedrooms
2 Bath
2 Hall
Kitchen
Living Room
Sitting Room
Game Room
Landing
Deck
Cinema
Laundry Room
Swimming Pool
The blueprint costs $200,000.
Trivia
There is a moderately sized hole in the wall located in the living room on the lower deck, beside the kitchen.
The Mega Mansion is one of the three houses that does not feature a house layout in Blueprints in the Shop. Instead, it's an image instead of a blueprint layout. The other houses like this are the Luxury Cabin, and the Modern Bungalow.
The swimming pool, unlike most games, can only be walked through as you cannot actually swim.
It is most expensive purchase and house available in the game as of 7/10/16.
This is one of two houses with a car garage, the other being the Modern Bungalow
The car garage door retracts into the ground, unlike real garages. This is so that there isn't a huge slab sitting on your roof while the garage is open but still keep the opening animation.
This house has no front door, and the only entrance is the garage.
Also, if you want to see the advanced version maybe go here. Antine Villa