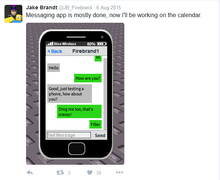 The Messages App is an app on your phone, used to text fellow players in private, instead of talking about it in the chat.  
How to Use
To use this app, go to the first page on your phone, click the bubble with a speech bubble reading "Messages" and then a screen will pop up on your phone. In bold, it will say "Contacts" and then it will show a list of all the different players in game. Click a players name (Example: 66oler) and another screen will pop up, allowing you to text the person. It will either show a blank space, or a bunch of different messages, depending on if you have texted the person before. Click the rectangular box that reads "Text Message" and then either click "Send" in bold, or press the enter key on your keyboard. What you text will show up in green, the speech bubble being on the right. The other person's message will show up on the left, in grey. When another player texts you, there will be a red dot on the upper right hand corner of the Messages App. When you enter the app, the red dot will now appear by the name of the player who texted you. 
Have something to add? Feel free to contribute!