The Movie Theatre is a vanity building that currently exists in RoCitizens. It is adjacent to the 8/12 Gas Station, to the left of it is the parking garage and it has its own parking lot.
Exterior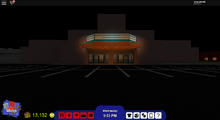 The Movie Theatre has an old classic 1950's look with yellow bulbs fors sign lights. And above that there is a Marquee.
Interior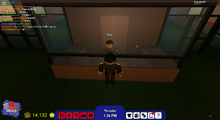 Upon entering the theatre you will see an NPC named Ryan in the ticket box. He is wearing the default ROBLOX Hoodie. There is a door behind him which is unopenable. The theatre cannot be robbed
Further in you will there is a large space which seems to be the main hall. A little bit further in you will see a long desk with in NPC named Carl. he is also wearing the ROBLOX Hoodie.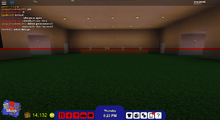 On either side of the desk is the entrances to the silver screens. There are only two cinemas in total.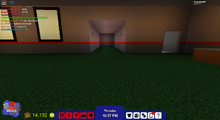 Next to the entrances are the restrooms. The left restroom is for males and the the right is for the females.
The Cinemas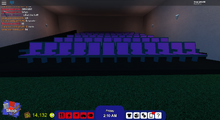 the seats of the cinema.
Each Cinema has 72 purple seats which are not sittable.
Shows
The only shows available can't be called shows but more like of adverts. They advertise Spencer Auto Sales and Robloxian Airplane insurance. Both cinemas are in cue in showing the adverts.
Ad blocker interference detected!
Wikia is a free-to-use site that makes money from advertising. We have a modified experience for viewers using ad blockers

Wikia is not accessible if you've made further modifications. Remove the custom ad blocker rule(s) and the page will load as expected.