The Nomburger is a building in RoCitizens which occupies 2 available jobs, a food clerk and line cook. It's open 24/7 and is a popular spot for NPCs to eat (as it's pretty much the only open restaurant).
Location
The Nomburger can be located in between the gas station, Bailys, and the apartment building.
Appearance
The Nomburger's exterior is a tan colour with red covers guarding the windows against rain and snow. There are 18 parking spots to it's right. There are two entrances which both read Nomburger above them in red. Inside, there are 2 separate tables with 2 red seats, and one red booth (2 chairs and the booth can fit 3). There is a counter at the back of the restaurant with 3 registers: 2 for real players and 1 for the NPC, Carolyn. She doesn't interact, she just stands there. The menu is on the wall above the counter Behind the counter, the kitchen can be found..
Jobs
Please visit Job Tutorials for how to do the job properly and complete an order.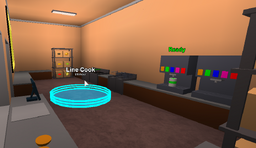 Food Clerk
The food clerk will take customers orders at the counter, using the register machine. They make $15 an hour, and also $15 for every order they complete. This job is in the career track of retail.
Line Cook
There is a kitchen in the back where the line cook works. You get $17 for every order complete, in addition to $15 an hour. This job is in the career track of cuisine.
Food
You used to be able to buy food from Nomburger, but now you just make food for NPC's there.
| Food | Price | Made With | Image |
| --- | --- | --- | --- |
| Burger | $5 | 2 buns, patties | |
| Cheeseburger | $6 | 2 buns, patties, cheese | |
| Deluxe Burger | $9 | 2 buns, patties, cheese, onion, tomato, lettuce | |
| Fries | $4 | Cooked fries, fries box | |
| Soda | $3 (all types) | Soda cup, lid, straw, color of soda | |
Trivia
They used to sell chocolate at Nomburger, and the price was $12, and it would raise 18% of your fun mood.
They also used to sell pizza and tacos at Nomburger. Pizza was $9 and increased 40% of hunger, and Tacos were $4 and increased 15% of hunger.
The Deluxe Burger was originally going to be called the Nomburger.