The Nomburger is a building in RoCitizens which occupies 2 available jobs, a food clerk and line cook. It's open 24/7 and is a popular spot for NPCs to eat (as it's pretty much the only open restaurant).
Location
The Nomburger can be located in between the gas station, Baileys, and the apartment building.
Appearance
The Nomburger's exterior is a tan colors with a red roof. The front has large windows that almost go all the way up to the top of the building. There are 18 parking spots to it's right. There are three entrances, one in the front with double doors, one to the left leading to the street, and one to the right leading in/out of the kitchen. On the front there is a Nomburger sign with the O replaced with a burger icon. Inside, there are four raised tables with 2 red seats each, and four tables with two red booths on either side. There is a counter at the back of the restaurant with 3 registers: 2 for real players and 1 for the NPC, Carolyn. You can press "F" to interact with her. She will be able to sell you food. The Nomburger has been totally revamped and re-designed as of the 8/6 update, adding the ability to buy food. This new design was created by koob85.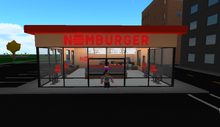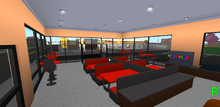 Jobs
Please visit Job Tutorials for how to do the job properly and complete an order.
Food Clerk
The food clerk will take customers orders at the counter, using the register machine. They make $15 an hour, and also $15 for every order they complete. This job is in the career track of retail.
Line Cook
There is a kitchen in the back where the line cook works. You get $17 for every order complete, in addition to $15 an hour. This job is in the career track of cuisine.
Nomburger Guide
How to make Nomburger order items to complete board orders as a Line Cook.
| Food | Price | Made With | Image |
| --- | --- | --- | --- |
| Burger | $5 | 2 buns, patties | |
| Cheeseburger | $6 | 2 buns, patties, cheese | |
| Deluxe Burger | $9 | 2 buns, patties, cheese, onion, tomato, lettuce | |
| Fries | $4 | Cooked fries, fries box | |
| Soda | $3 (all types) | Soda cup, lid, straw, color of soda | |
Food
You are currently unable to buy food from Nomburger, although that would be a great idea for an update.
Nomburger Menu
| Name | Price | Picture | Description |
| --- | --- | --- | --- |
| Burger | $9 | | A standard burger. Nom. |
| Cheeseburger | $14 | | A standard burger but with cheese. Double nom. |
| Deluxe Burger | $23 | | Nom Nom Nom Nom Nom Nom Nom Nom Nom Nom. |
| Fries | $13 | | A salty greasy treat that goes well with anything. |
| Soda | $16 | | A sweet drink to wash down your heart attack |
Trivia
They used to sell chocolate at Nomburger, and the price was $12, and it would raise 18% of your fun mood.
They also used to sell pizza and tacos at Nomburger. Pizza was $9 and increased 40% of hunger, and Tacos were $4 and increased 15% of hunger.
The Deluxe Burger was originally going to be called the Nomburger.
You can buy food from Nomburger, and there are prices for all the foods.