The parking garage in RoCitizens (car not included).
The parking garage in RoCitizens is one of the places where your car spawns, the second being your house.
Exterior
The outside of the garage is a light to medium grey and the tarmac is a darker grey.
Interior
The inside of it looks just like any multi-story parking garage , dark and grey. At one end of it has a ramp leading to the next floor. At the very top is a wooden ramp that can be jumped off of.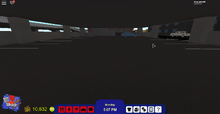 Caution
If you want to go to the next floor it is impossible to do it in slow cars except the Valiant.
Fun Feature
There is a ramp on the roof that you can run you and your car of of! It is intended mainly for fun.
Ad blocker interference detected!
Wikia is a free-to-use site that makes money from advertising. We have a modified experience for viewers using ad blockers

Wikia is not accessible if you've made further modifications. Remove the custom ad blocker rule(s) and the page will load as expected.