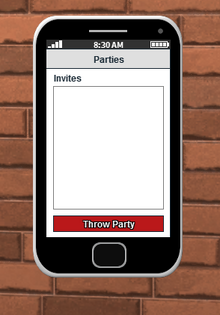 "Parties App is one of the many apps featured on your phone. To access this app, go to "Parties" on page one of your phone."
Throwing Parties
 Click the red button that reads "Throw Party" and pick different players as guests. After that, click the green button that reads "Confirm" and the party has started! 
Going to Parties
If someone else invites you to a party, you can teleport to their home by opening the Party app in your phone and finding and clicking the party in the list of invites.
Trivia
 There is a glitch involving this app. See here to find out what it is! 
 If you invite people to your party, they will spawn in the front of it, by the door. However, if you invite someone to a party and your house is the Antine Villa the person invited will be spawned on the floor to the right of the pool, instead of in the front of the house. 
Have something to add? Feel free to contribute!