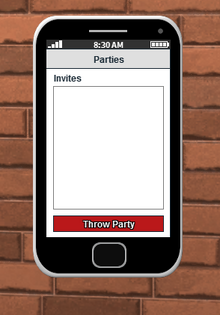 "Parties App is one of the many apps featured on your phone. To access this app, go to "Parties" on page one of your phone."
Throwing Parties
 Click the red button that reads "Throw Party" and pick different players as guests. After that, click the green button that reads "Confirm" and the party has started! 
Going to Parties
If someone else invites you to a party, you can teleport to their home by opening the Party app in your phone and finding and clicking the party in the list of invites.
Trivia
 There is a glitch involving this app. See here to find out what it is! 
Have something to add? Feel free to contribute!
Ad blocker interference detected!
Wikia is a free-to-use site that makes money from advertising. We have a modified experience for viewers using ad blockers

Wikia is not accessible if you've made further modifications. Remove the custom ad blocker rule(s) and the page will load as expected.