This criminal hangout is a dark and mysterious warehouse in RoCitizens. It is the spawn location for all workers in the criminal career sector.
Location
This criminal hangout is somewhat close to the spawn. It is located between Paghetti's and Club Ice, and shares the parking lot with both buildings.
Exterior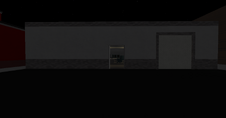 This criminal hangout has a very dark and soulless exterior. It has no windows, and has a grey wall around the whole building. The roof is a darker grey, and there is grey bricks at the bottom of the wall. There is a bolted garage door, and a door leading inside.
Interior
The interior is very strange. There are six lights, however they are all very dim, it is still very dark inside the warehouse. There are piles of brown boxes in the garage door corner (2 boxes), next to the door on your left (3 boxes), in the top right corner (2 boxes), and near the top right corner (3 boxes). There is nothing else except a row of six computers, but only two chairs.
Have something to add? Feel free to contribute!
Ad blocker interference detected!
Wikia is a free-to-use site that makes money from advertising. We have a modified experience for viewers using ad blockers

Wikia is not accessible if you've made further modifications. Remove the custom ad blocker rule(s) and the page will load as expected.