The Super-Mart is a grocery building in RoCitizens. It houses one job, the Cashier, with the base pay of $15/hour. See more info on the Cashier Job here. You can also rob this location, which you can learn more about here.
Location
The Super-Mart's location is across from
Club Ice
, and to the left of
Spencer's Auto Sales
when facing the front from the outside. It has its own parking lot at the front of the building.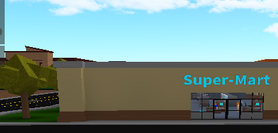 Exterior
The exterior of the building is made fully out of the Plastic material, with a brown base, beige walls, and a light grey roof. It has light blue text above the sliding door with text reading "Super-Mart".
Interior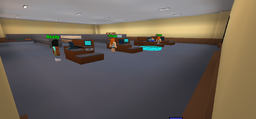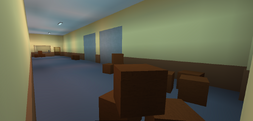 The interior of the building is very basic, with three registers towards the front of the building, cooled shelving and coolers in the back, and then basic shelving in the middle. There are multiple aisles of the basic shelving.
There is also a back room to the interior, which is a long hallway with some closed, metal garage doors and boxes at the end. At the other end, there is an office with some more boxes.
Buy-able Items
Because the building is a grocery store, it also has items you can buy with Money. You can then use that food in recipes to make edible items. You can find recipes here.
Here is a list of items you can buy in Super-Mart. This list is in no particular order.
| Item Name | Company Name | Item Price | Image |
| --- | --- | --- | --- |
| Lasagna Noodles | Pasta Palace Inc | $12 | |
| Macaroni Noodles | Pasta Palace Inc | $4 | |
| Potatoes | Back to our Roots Inc | $18 | |
| Hamburger Buns | Eat Wheat Grain Products | $13 | |
| Bread | Eat Wheat Grain Products | $9 | |
| Chocolate Bar | Smersheys | $12 | |
| Bag of Sugar | Sugar and Spice Foods | $18 | |
| Bag of Flour | Eat Wheat Grain Products | $15 | |
| Tomato Sauce | Awesome Sauce Co | $8 | |
| Seasoning | Sugar and Spice Foods | $5 | |
| Pumpkin Spice | Sugar and Spice Foods | $5 | |
| Pepperoni | Have a Cow Food Co | $24 | |
| Ground Beef | Have a Cow Food Co | $20 | |
| Turkey | Tastes Like Chicken Food | $42 | |
| Steak | Have a Cow Food Co | $38 | |
| Hamburger Patties | Have a Cow Food Co | $21 | |
| Eggs | A Little Chicken Food Co | $7 | |
| Butter | Have a Cow Food Co | $18 | |
| Milk | Have a Cow Food Co | $5 | |
| Cheese Block | Have a Cow Food Co | $13 | |
| Pineapple | Grows On Trees Fruit Co | $15 | |
| Pumpkin | Just Eat It Inc | $16 | |
| Bell Pepper | Just Eat It Inc | $4 | |
| Apple | Grows on Trees Fruit Co | $4 | |